After host Trevor Noah announced the historic news, the audience gave Beyoncé a standing ovation.
"I'm trying not to be too emotional, I'm trying to just receive this night," she said, fighting back tears in her acceptance speech. "I want to thank God for protecting me, I'd like to thank my Uncle Johnny who's not here but he's here in spirit."
She also thanked her parents, children and husband, Jay-Z. Finally, she thanked the Grammys but not before giving the queer community their flowers "for your love and inventing this genre."
The global superstar, who dominated the night with nine nominations, won over Bonobo, Diplo, Odesza and Rüfüs Du Sol. She is the third Black person to win this award, behind Black Coffee's "Subconsciously" in 2021 and Kaytranada's "Bubba" in 2020.
Beyoncé's win comes after a bit of controversy. The Recording Academy's dance committee did not initially consider "Renaissance" a dance album, despite Beyoncé submitting it specifically for the category, according to The Hollywood Reporter. A source told THR that the committee thought "Renaissance" was better suited for the Best Pop Vocal Album category.
"Break My Soul," the lead single from "Renaissance," was able to compete in the Dance/Electronic Recording category without contest, which it ended up winning. "Break My Soul" debuted at No. 1 on the Billboard Hot 100 when it dropped this summer.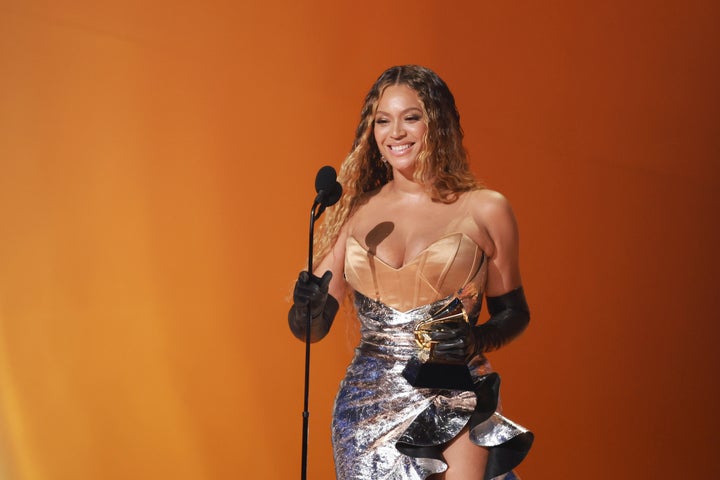 The academy's National Screening Committee, composed of music industry experts, had the last say, however, and concluded that the critically acclaimed album should contend in the dance categories.
Beyoncé's win is important for several reasons. Being the first is, of course, substantial. And now the academy has formally acknowledged an album that pays homage Black musicians who built and popularized dance and house music.
Though the genre gained popularity in the 1970s, the academy didn't establish the Dance/Electronic category until 2004. Black dance artists have largely been shut out of not only the Grammys, but many conversations about dance outside of the community.
In a genre where Black queer people and women that heavily influenced, molded and redefined the genre — including Donna Summer, Honey Dijon, Robin S. and Grace Jones (all of whose works inspired or were featured on "Renaissance"), Beyoncé's win feels like a victory for more than just her.
Popular in the Community