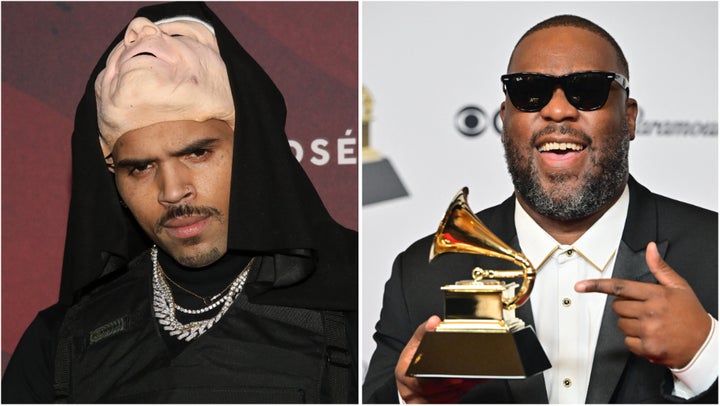 Chris Brown isn't a happy camper after finding out he lost out on Best R&B Album to pianist Robert Glasper at the 65th Grammy Awards on Sunday night.
In one post, Brown wrote, "Yall playing. Who da fuck is this?" alongside a picture of Glasper and several crying-laughing emojis.
The "Go Crazy" singer, who has received 21 Grammy nominations throughout his career and earned a Best R&B Album Grammy in 2012 for "F.A.M.E.," didn't stop the bashing there.
"Who the f*ck is Robert Glasper," he continued in the utmost sore-loser fashion. "Ima keep kicking yall ass! Respectfully."
Glasper, who has written and produced albums for hitmakers including Kendrick Lamar, Mac Miller, Common and Talib Kweli, has received 12 nods across eight categories throughout his musical career.
He has also landed four Grammys, including Best R&B Song in 2021 for "Better Than I Imagined" alongside singer H.E.R.
The pianist took home the Best R&B Album award Sunday night for his "Black Radio III" album over Brown's 10th album, "Breezy (Deluxe)," Mary J. Blige's "Good Morning Gorgeous (Deluxe)," Lucky Daye's "Candydrip" and PJ Morton's "Watch the Sun."
Wrapping up his roasting session against Glasper, Brown concluded with a dose of sarcasm: "I gotta get my skills up…Ima start playing the harmonica."
Alongside an edited image of himself playing the harmonica, he quipped, "New Level Unlocked! Harmonica Breezy."
It didn't take long for Twitter users to call out the crooner over his immature behavior.
"Chris Brown has 20 nominations and 1 win. He taking out his frustrations on Robert Glasper but them 19 Ls are the real enemy," one Twitter user wrote.
Another wrote, "Chris Brown not knowing who Robert Glasper is… is the reason all of Chris Brown songs sound the same."
"Chris Brown having no idea who Robert Glasper and proceeding to come for him perfectly explains why his music hasn't grown or matured in 15 years," said another.
Other fans jumped in to defend the "Run It!" hitmaker dissing Glasper.
Check out a complete list of this year's Grammy winners here.
Popular in the Community