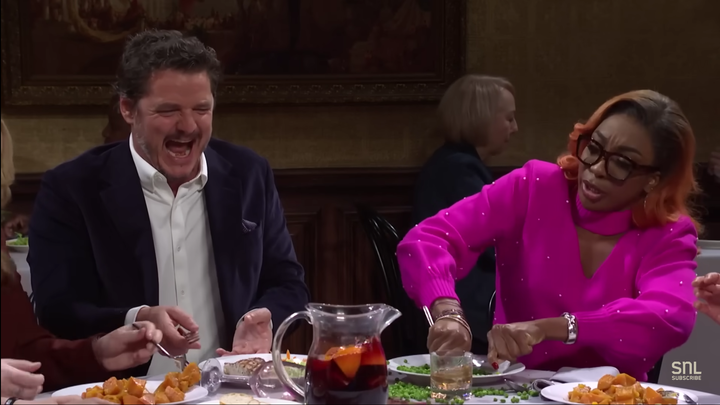 Call it a Grade A-certified moment of hilarity.
"Saturday Night Live" host Pedro Pascal broke character during a sketch about steak over the weekend that caused the duration of the skit to devolve (or perhaps evolve?) into a fit of giggles.
In "Lisa from Temecula," Ego Nwodim played Lisa, a woman who cuts her "extra-extra-well-done" steak at a restaurant so aggressively, it causes the table to shake uncontrollably — and Pascal to completely lose it.
The "Last of Us" star did attempt to get the sketch back on track by delivering a few lines, but the damage was done. Nwodim's request for "ketchup" with her hockey-puck steak and then putting her leg on her chair to get more leverage for her chaotic carving eventually made everyone else in the skit burst out laughing.
The audience knew that the script for the sketch was completely lost when cast member Bowen Wang gave up at one point by dropping his fork, covering his face and cracking up.
Twitter users absolutely loved the bonkers "SNL" moment and praised Nwodim's unhinged performance.
Critics agreed as well. Jesse David Fox of Vulture compared Nwodim's "Lisa from Temecula" to Kate McKinnon's character in another "SNL" sketch, "Close Encounter."
"But whereas [McKinnon's] character had a big hook (she was abducted by aliens), Lisa just likes extra-extra-well-done steaks and is weird," Fox wrote.
As for Pascal — who seemingly proved he can handle clickers, but not clanking dinnerware — he never stood a chance.
"SNL" writer and associate producer Greg Scarnici admitted on Twitter that Nwodim had him "dying from the second she showed up at read-thru" for the sketch.
Popular in the Community