Harry Styles appeared to have a surprise ally in ex-girlfriend Taylor Swift on Sunday as he received the Album of the Year Grammy for "Harry's House."
"Harry's House," Styles' third solo album, was both a critical and commercial smash. Still, the British pop star's win was widely perceived as an upset over Beyoncé, whose disco-infused, genre-defying album "Renaissance" was considered the front-runner for the night's biggest prize.
As Styles took the stage to accept the award, audience members inside Los Angeles' Crypto.com Arena could be heard expressing their frustrations. Among those to do so was journalist Ernest Owens, who shared a short video of the moment on Twitter.
"Beyoncé was robbed," he tweeted. "This was so underwhelming."
Pitchfork's editor-in-chief Puja Patel, who attended the Grammys, confirmed that shouting could be heard as Styles began his speech.
"When Harry started talking, some folks in the arena started yelling 'Beyonce!!!!' and there was a tense pause," she wrote on her publication's live blog. "Not sure if you could hear it on TV. I think the feeling in the room was pretty shocked."
Footage taken from another vantage point in the arena, however, offered a different perspective on the situation.
The shouts were still audible from the front of the stage, close to where Styles was standing. But some fans noticed that Swift, no stranger to hecklers interrupting her award show appearances, remained standing for the duration of Styles' speech even as those around her returned to their seats.
For some, the scene recalled the 2009 MTV Video Music Awards, when Swift's acceptance speech was interrupted by Ye, then known as Kanye West.
Swift had begun to accept the award for best female video for "You Belong to Me" when Ye stormed the stage and proclaimed Beyoncé's "Single Ladies" more worthy of the honor.
Later in the show, Beyoncé invited Swift to deliver her acceptance speech when "Single Ladies" won the award for video of the year.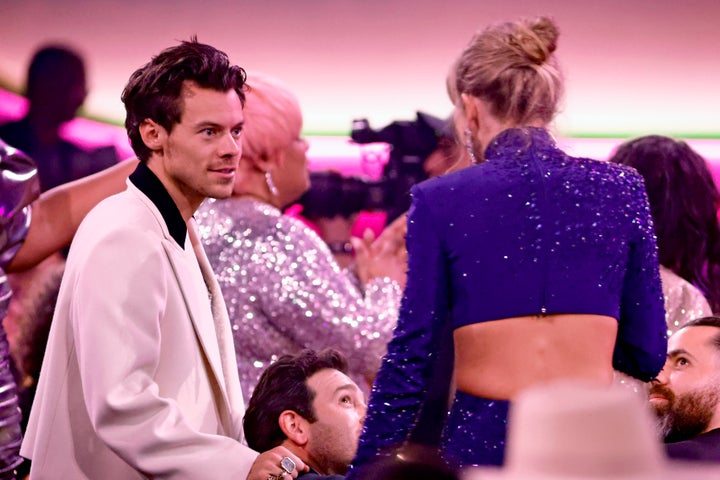 Though the exact timeline of their relationship is unknown, Styles and Swift reportedly dated from 2012 to 2013. The songs "Out of the Woods" and "Style" off Swift's acclaimed "1989" album are widely speculated to have been inspired by their short romance.
The former couple shared a number of sweet interactions at the Grammys. Swift was also spotted dancing and singing along to Styles' performance of "As It Was."
Popular in the Community